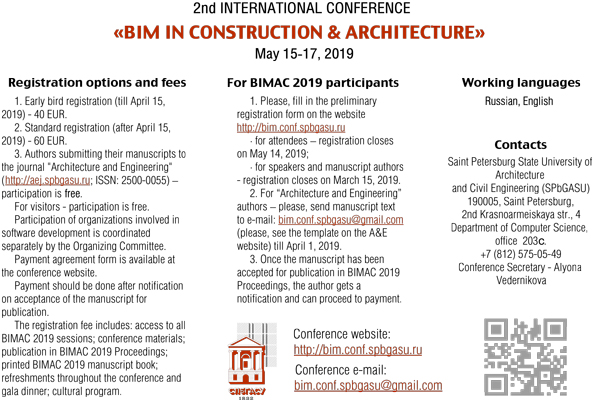 Dear colleagues,
Saint Petersburg State University of Architecture and Civil Engineering
(SPbGASU) is pleased to invite you and your colleagues to the*
International Conference "BIM in Construction & Architecture" (BIMAC 2019)*
held on *May 15 to 17, 2019 in Saint Petersburg, Russia*.
*BIMAC 2019* aims to provide a forum for discussion, experience exchange
among professional BIM community. The key focus of *BIMAC 2019* is
implementing advanced BIM technologies into practice and research
activities in construction and architecture.
Participation in BIMAC 2019 Conference will be especially beneficial for
practitioners in the field of building design and construction;
representatives of construction companies; researchers and academic
community.
In the scope of this Conference we are publishing BIMAC 2019 Proceedings
and provide BIMAC 2019 participants with opportunity to submit their
manuscripts to the journal "Architecture and Engineering" (
http://aej.spbgasu.ru; ISSN: 2500-0055). We would be happy if you and your
colleagues could participate as BIMAC 2019 authors and speakers.
*Information on BIMAC 2019 Conference and Proceedings is available at:*
http://bim.conf.spbgasu.ru/en/
*Early bird registration is open until March 15, 2019.*
*Looking forward to your participation in BIMAC 2019!*
*Kind regards,*
*BIMAC 2019 Organizing Committee*
*Contacts*
*Saint Petersburg State University of Architectureand Civil Engineering
(SPbGASU)190005, Saint Petersburg, 2nd Krasnoarmeiskaya str., 4Department
of Computer Science, office 203C.Tel.: +7 (812) 575 05 49E-mail:
bim.conf.spbgasu@gmail.com <bim.conf.spbgasu@gmail.com>*
335 total views, 1 views today