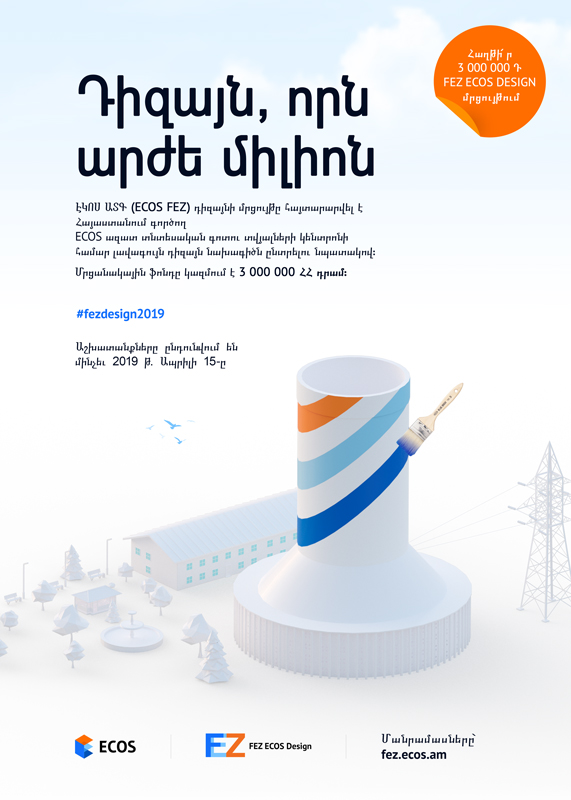 ECOS expects brave, alternative and non-standard solutions to help create the innovative image of the Republic of Armenia in the field of high technologies, at the same time giving the architects and designers the opportunity to have their contribution to the development of innovative technologies and regions in Armenia.
"Soon we will launch the creation of an industrial mining center based on the cooling tower of Hrazdan HPP. It will become part of the technological cluster for innovative start-ups, as well as perform the functions of the FEZ data center, "reports the company.
Experienced and beginner professionals, specialized architectural and design companies, students and alumni are invited to take part in the competition.
The competition is announced in three nominations:
Best design of Cooling tower

Best design of FEZ administrative office

Best design of  landscape Environmental area
The winners and participants of the final stage will receive gifts and funding to implement their projects.
" ECOS Company aims to provide young and creative people with innovative technologies present their views and ideas about the future. In the period of globalization, when technological advances and developments are prevailing, a need for a reassessment between city,  human and high technologies is created. We want to reflect the ECOS vision, so we look forward to your ideas" – commented Ilya Goldberg, ECOS's Managing Partner.
The competition is held under the auspices of the Government of Armenia with the participation of leading specialists.
The deadline for the competition is April 15, 2019.
The application form can be sent via the following link: The rules of the contest are available through the following link:
Based on the FEZ, an ecosystem will be established where infrastructure projects will be developed from educational projects and research laboratories to electronic investment platforms. The ECOS Free Economic Zone (FEZ) is a digital business card with modern high-tech technology that is becoming more and more popular in terms of foreign investment and export of digital technologies.
The goal of the project is to create and introduce ecosystems in the Republic of Armenia, to ensure technologically sustainable development of export-oriented and high-tech companies, as well as the involvement of highly-qualified international specialists and ensuring sustainable socio-economic development in the Republic of Armenia and beyond its borders.
67 total views, 1 views today